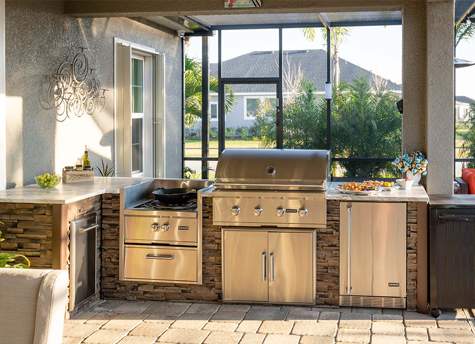 Consider These When Choosing Your Outdoor Kitchen Style and Design
When designing an outdoor kitchen, it's important to consider the materials that will be used. Some popular options for outdoor kitchen materials include stone, brick, concrete, and stainless steel. Each material has its own unique benefits and drawbacks, so it's important to consider which one will work best for your needs. There are many factors and styles of outdoor kitchens to choose from, including modern, traditional, and rustic. It's important to consider the size of your yard, budget, and overall backyard decor when selecting a style.
Stone and brick can add a rustic and traditional look to your outdoor kitchen, but they can be expensive and require more maintenance than other materials. Concrete is a more affordable option that is also durable, but it may not have the same visual appeal as other materials. Stainless steel is a popular choice for outdoor kitchens because it is durable and easy to clean. However, it can be prone to fingerprint and may not have the same warmth and character as other materials.
In addition to materials, it's also important to consider the layout and placement of your outdoor kitchen. The layout should be functional and efficient, with the appliances and prep areas placed in a way that makes it easy to cook and entertain. The kitchen should also be placed in a location that is convenient and accessible, while also taking into account factors such as sun exposure and wind patterns.
At Atlas GC, we also recommend you consider the details including lighting, seating, storage options, and additional features such as a grill, pizza oven, or bar area.